I was cleaning out my picture folders tonight trying to make space on my computer to add MORE. I came across these pics from the first day of KINDERGARTEN for my little peanut. I cannot believe I do not have these printed and hanging in my house somewhere. It seems like the files and files of pictures waiting for me to "DO SOMETHING WITH THEM" just keeps growing. My goal over the holidays this year is going to be to get them sorted, edited, printed, and hanging on my walls. I hope. :)
This was such a big day for ME. I should be saying it was such a big day for my little "G". However, she acted like a pro. She bounded into that new classroom without the slightest hesitation. Oh, and you can bet I followed her right in. I was not about to leave without a mushy good-bye scene. I followed her around asking, "Are you sure you will be okay"? She finally turned to me and said, "Mom, you have to leave now". So very reluctantly I left the room and stood in the doorway for one last look at my grown up KINDERGARTENER. Now I know why my mom said she cried every first day of school.
"G" is my heart. I have always said that she brings the sunshine to my life. She is full of happiness and fun. She has loved every minute of kindergarten and is only sad when there is no school for the day. She loves her teacher and thrives on the things they learn. I love her for her independence and know that she will do great things with it. (Even if I have to shed a few tears as she moves forward)
Gracie's little cousin (and one of her bestest buds) is in her class. It makes sending her that much easier to know that she has a little pal. Grandma & Grandpa cooked an amazing breakfast for all of the little grandkids on the first day of school. They will never forget it! Thank YOU! We were able to snap a few shots before the big day.
This is my favorite pic because of the story that it tells. I took this as we were picking them up from school. "G"s dress is hanging off of her shoulders, and "K"s sock is bunched and falling. Their name tags are blown and turned backwards. They are no longer perfectly put together as we left them. :) I can only imagine the fun they had, and both of them climbing the big toy despite the fact that their mother's put them in dresses.
The cute little guy in these pics is also known as "Mr. A" around here. You might recognize him better with bat wings on jumping off the steps. :) Mr. A is a good little friend and also in "G"s class.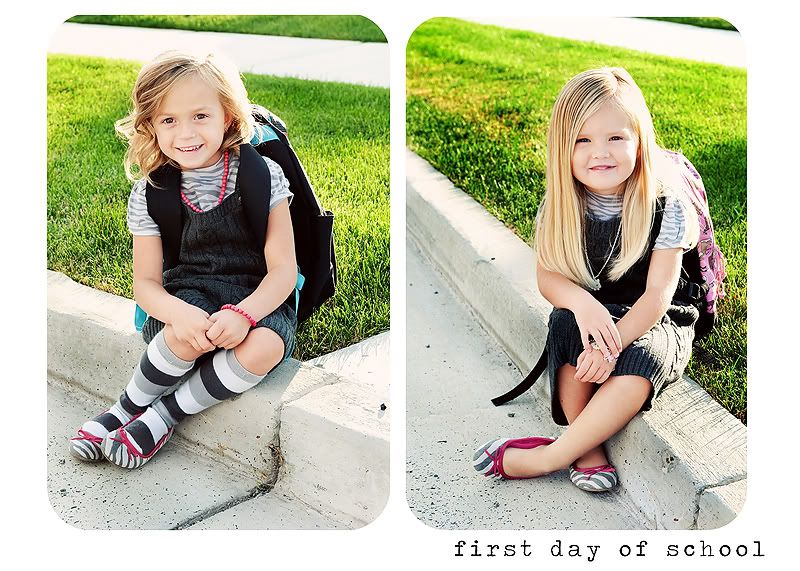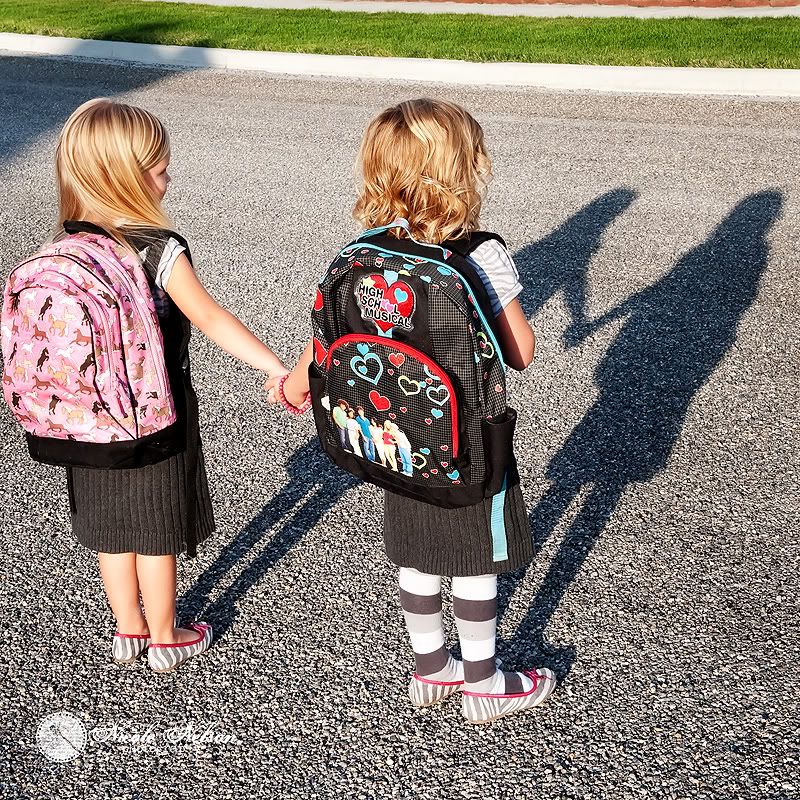 Every mom knows the importance of THE BACKPACK! If you look carefully you can even learn a bit about that child by their backpack. The funny thing is "G"s backpack is going on its third year. Her Grandma gave it to her at the beginning of preschool. She loves it so much (because it is covered in horses) that I do not know if we will ever need another one. How would it look in high-school? I'm thinking just fabulous!
I've decided I'm going to take her picture every year in front of the school but (yep, even when she is a teenager). Oh, how she will grow! I'm not sure that I am ready for it, but you can bet I'll be right there asking, "Are you sure you are okay".